With direct routes to 15 cities in 10 countries in the Americas and Europe, Medellín's connectivity is on the rise
The United States, Mexico, Panama, and the Dominican Republic: destinations with the best air connectivity to Medellín.
In 2021, the country opened 32 international routes, ten of them from Medellín, making it one of the Colombian cities with more connections opened during the year.
The growth in direct routes to international destinations responds to the significant increase in international tourist arrivals. The department of Antioquia, whose capital is Medellín, consolidated its position as the department that received the second highest number of visitors last year, with a total of 120,300 international travelers.
Direct connectivity to Medellín is possible thanks to more than 200 weekly flights operated by 14 domestic and international airlines: Aeromexico, Air Europa, American Airlines, Avianca, Copa Airlines, EZ Air, Jetair Caribbean, JetBlue, JetSmart, Sarpa, Spirit, Viva, Viva Aerobus, and Wingo. In addition to the recently opened routes to Mexico City (Viva Aerobus) and Santo Domingo (Wingo), four new international destinations are expected to be included in 2022: Buenos Aires, Argentina (Viva); Sao Paulo, Brazil (Viva); and Quito and Guayaquil, Ecuador (Avianca).
The United States, Mexico, Panama, and the Dominican Republic are the countries with the largest number of routes and frequencies. Connections with these countries are made through the following cities and airlines: Miami, Fort Lauderdale, Orlando, and New York, in the United States; Mexico City and Cancun, in Mexico; Panama City, in Panama; and Punta Cana and Santo Domingo, in the Dominican Republic.
Aruba, Chile, Costa Rica, Curaçao, Spain, and Peru also connect their main cities with Medellín, boosting passenger arrivals to the city, which has already received 34,000 foreign visitors in 2022, according to figures from the Colombian Migration Office and the Medellín Tourism Observatory.
Medellín: Connected to Colombia
From Medellín, international tourists can travel to more than 40 domestic destinations. Through its airports José María Córdova, in Rionegro, and Olaya Herrera, in Medellín, the city is the second best connected to different destinations in Colombia: major cities and other municipalities in the five regions of the country.
Learn about Medellín's direct connectivity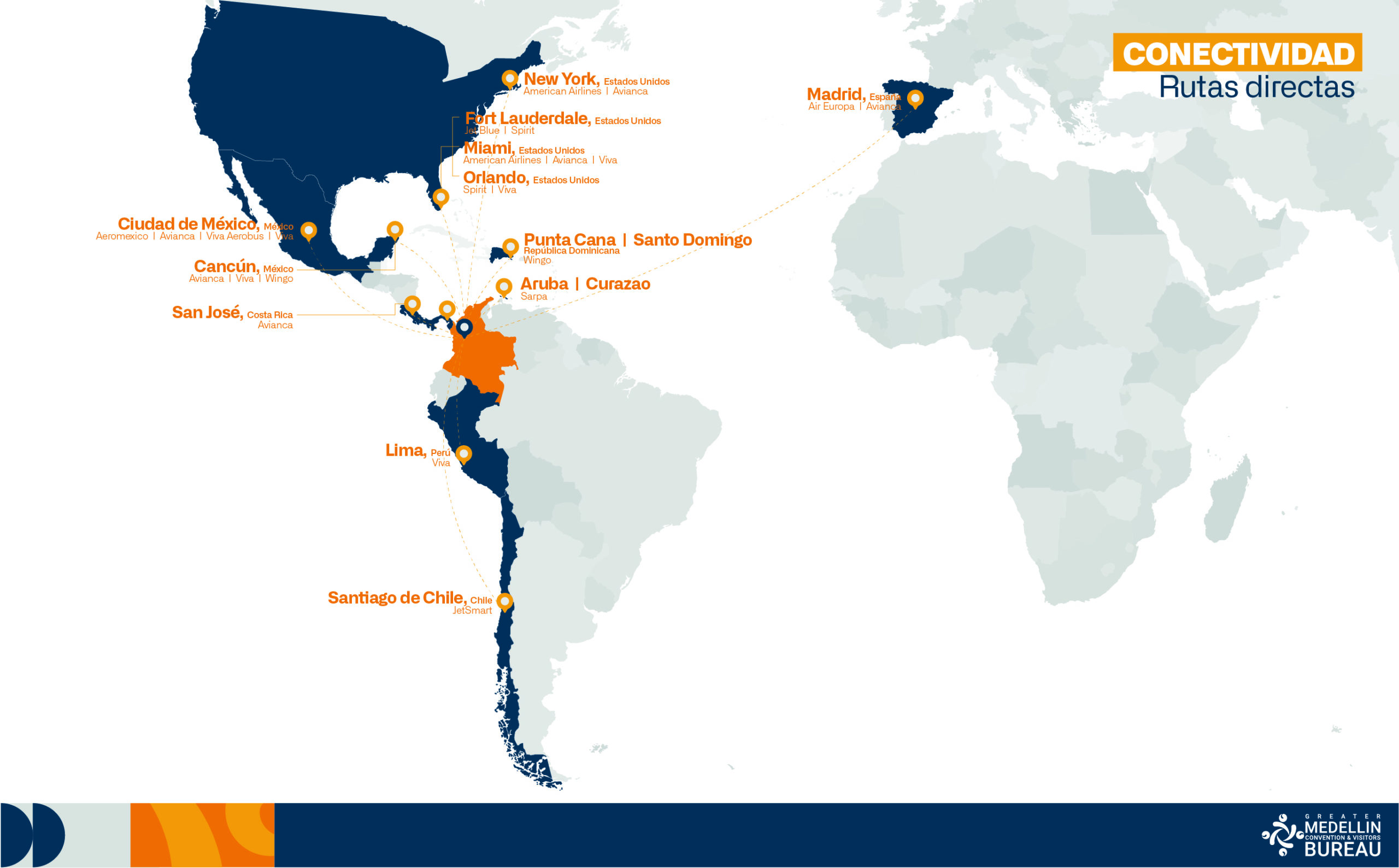 Medellín is an exceptional tourist destination! We invite you to explore and fall in love with the first smart tourist destination in the country: a cultural, artistic, creative, and transforming city. For more information about the destination, please visit www.bureaumedellin.com or write us at turismovacacional@bureamedellin.com.