Although during 2020 and part of 2021 the global event industry went through one of the most difficult periods in history and some experts claimed that virtuality had almost completely replaced face-to-face events, today Medellín –Colombia's second city– confirms the opposite.
The events of national and international relevance to be held in Medellín during the rest of 2021 are proof that the city's vocation as a meeting destination continues to get stronger in order to receive more and more congresses, conventions, and incentive travels. The city's economic and tourism reactivation is the result of its capacity to host events such as Tourism Cares (November): the global event of the world's most important foundation in terms of community-based tourism; Forever Wedding Summit (October): the most popular training and networking event for the wedding industry in Latin America; International Trading Festival 2021 (September): an exhibition and networking platform on investment and education for the financial markets; and EKOTECTURA (November): the biggest sustainable architecture and design event in Latin America.
A pandemic brought the world to a halt, but for Medellín and its tourism vocation this was just a pause to plan for a future in which technology and innovation—two emblems of the city—are the pillars of the tourism and event industry. In June 2021, as part of the region's economic reactivation, large-scale events returned to the city; consequently, venues have focused their efforts on designing strategies to organize on-site and hybrid events using state-of-the-art technology and, of course, meeting the highest biosafety standards.
"These first large-scale events taught us a lesson of hope: It is possible to hold great events despite the current situation. During the rest of 2021, Plaza Mayor Convention and Exhibition Center will be the venue for 54 events, generating confidence and positivism in the local, national, and international industry, which continues to choose Medellín as its host city," says Víctor Hugo Zapata Madrigal, general manager at Plaza Mayor.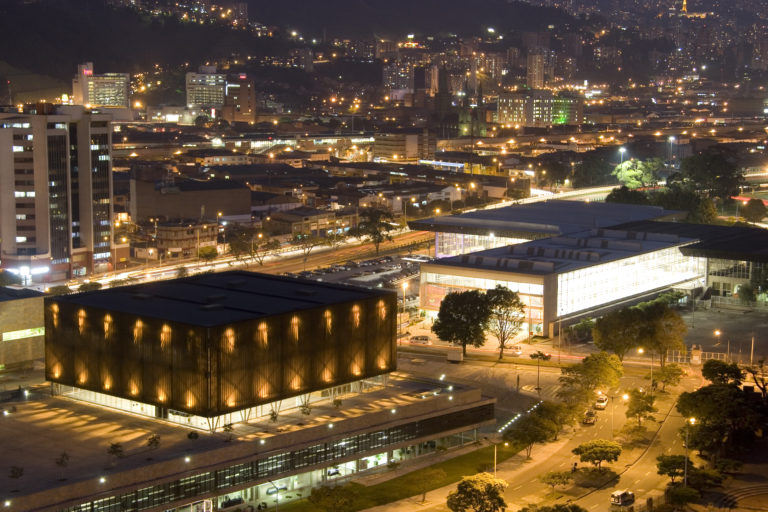 Medellín's history as a meetings, incentives, conventions, and events (MICE) destination is not new. An average of 502 events held annually between 2010 and 2019 position Medellín as a city of meetings, congresses, conferences, and conventions. This demonstrates the strengths and competitive advantages that the city has to offer to this important tourism segment, considered a driving force for development.
In the last decade, since 2010, and with a trajectory marked by the growth of the event and business tourism industry, plus an ecosystem made up of public and private actors, Medellín managed to consolidate its position as an important destination for MICE tourism and a benchmark in Latin America for attracting events. Proof of this are the two nominations for the South America's World Travel Awards 2020—considered the Oscars of tourism—as leading meetings and conference destination and leading festival and event destination.
In addition, as regards event organization, according to the world ranking published by the International Congress and Convention Association (ICCA), Medellín moved up 26 positions and ranked 84th out of more than 470 cities.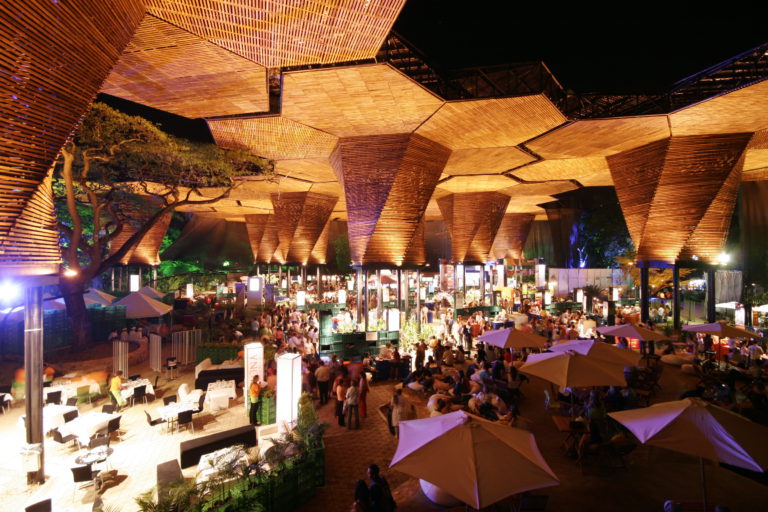 Medellín is a city of innovation, culture, tourism, and, as it was conceived five decades ago, a city of congresses. Among the many differentiating factors that make it an avant-garde host to events, it is worth highlighting the various types of venues that promise remarkable events.
Plaza Mayor: Located in the heart of the city, with a maximum capacity of 22,000 people (before the pandemic) and its more than fifty years of experience in the MICE industry, this is the city's largest fair venue. It obtained the "Check in Certificado" and the "biosafe operations" seals in March 2021, valid until December 2022, with the purpose of ensuring the well-being of all attendees and visitors.
Non-conventional venues: Medellín has unusual facilities and the Botanical Garden of Medellín is a proof of that: it is a natural museum that, for 48 years, has been dedicated to research, education, and conservation, but also hosting events. Today, its 13.2 hectares of nature in the middle of the city offer six outdoor stages, four halls, one yard, one auditorium, and the Orquideorama that can accommodate 3,000 people and is an award-winning space thanks to its architecture. "When organizing events at the Botanical Garden, we aim to harmonize the social activity with the place: a museum. What sets us apart is the natural and ornamental features of these facilities, making any event different, unique," says Claudia Lucía García Orjuela, executive director at the Botanical Garden.
Hotel venues: The offer of more than 15,000 rooms distributed in more than 300 hotels in the city shows its tourist spirit. Many of these hotels are equipped with halls of different characteristics and capacities. The InterContinental Hotel stands out with its 15 halls that have a capacity of up to 1,600 people: "the InterContinental Hotel in Medellín has been working hard in the attraction of new events, offering customers alternatives for the development of their events and meeting the requirements for them to be assured and safe, such as the biosafety protocols," states Yesid Delgadillo, sales manager at Movich Hotels.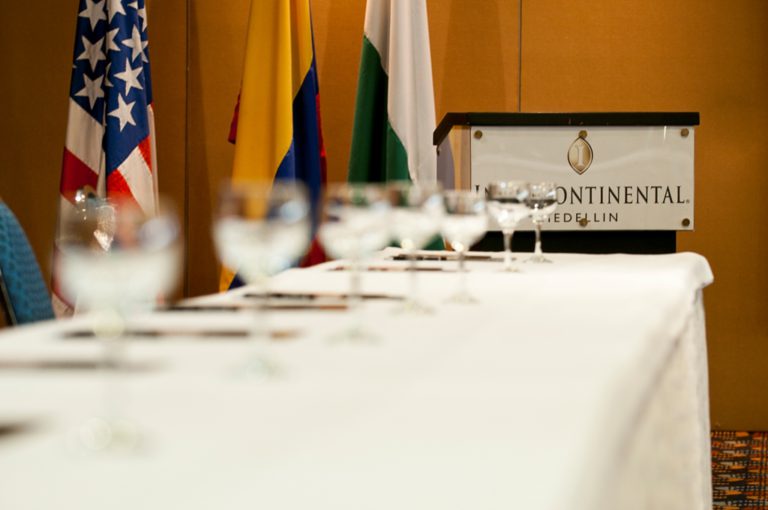 Medellín wants to host your event! A city of tourism, art, and culture waits for you to welcome you and stamp in every phase of preparation for your meeting, congress, conference, or convention its biosafety seal along with science, technology, and innovation to offer you an unforgettable experience. For more information, please go to www.bureaumedellin.com/eventos or write to mochoa@bureaumedellin.com. 
A bit of history
After a social, cultural, and economic transformation process that started in the eighties and established in the nineties, Medellín discovered that its economic activity—until then based on industry and workforce—should shift to a new model. In this way, the city found in the banking and service sector a new vocation. Then, two aspects stood out to boost its growth and turn it into a national and continental benchmark: businesses and conferences.
On August 21, 1975, with an investment of COP 10 million (around USD 1.16 million in 2021), Medellín opened Palacio de Exposiciones (Palace of Exhibitions)—today Plaza Mayor—under the motto Medellín, city of congresses. "From that moment on, a very interesting ecosystem was created so that Medellín focused its activities on event and business tourism, and, over time, the city experienced significant accomplishments and advances that showed the way," points out the general manager at Plaza Mayor.